The Magisterial House is very proud to announce that an important document was found, while analysing several old and historical documents about our Sovereign Order and State collected from our archives to be used in a detailed book about the History of the Federation ( KMFAP ) which is being prepared.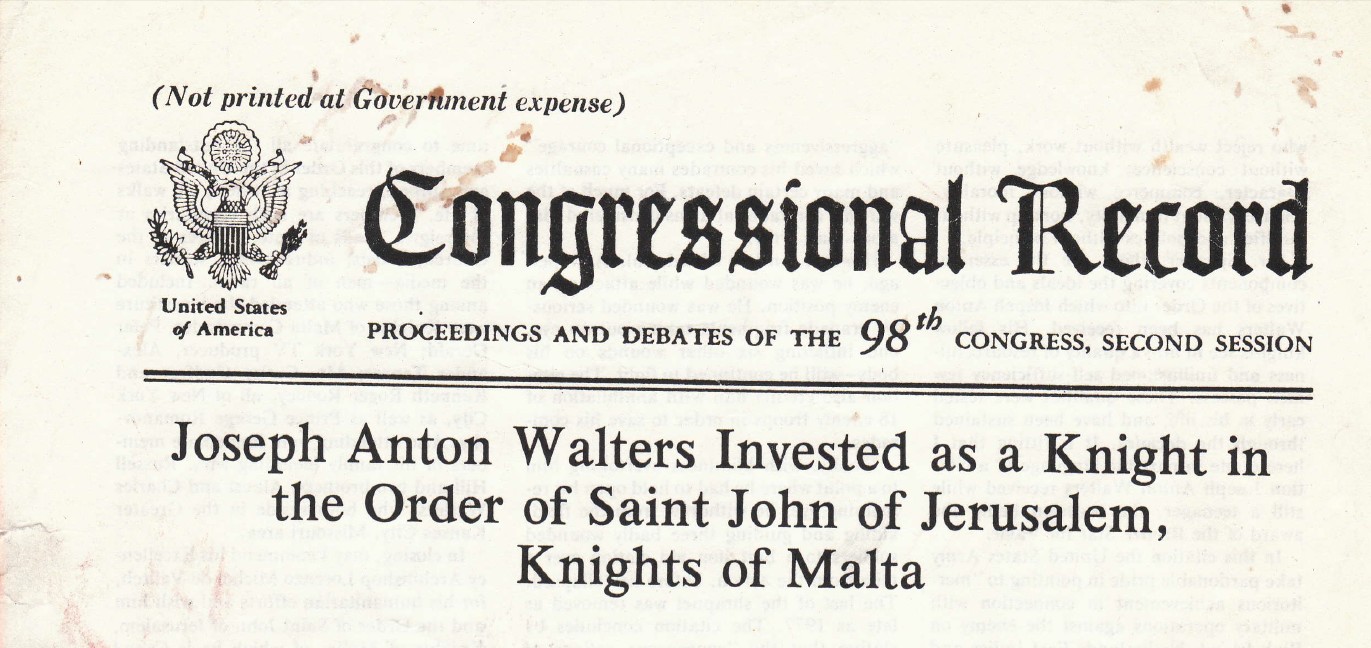 This document consist of a Congressional Record of the 98th session of the Congress of the United States of America, and We would like to share a summary of its content with all of our Knights and Dames:
On Friday, July 27, 1984, in Washington DC, the Honourable Congressman Alan Wheat, of Missouri, addressed a speech to the Speaker of the House of Representatives informing the House that "one of the Missouri's foremost veterans of the World War II, and expert in militaria, Mr. Joseph Anton Walters of Independence " was invested as a Knight in the Order of Saint John of Jerusalem, Knights of Malta, in a Ceremony presided by His Excellency Lorenz Michael De Valitch, at the Yacht Club in New York City " in the presence of a number of distinguished prelates, public officials, and business leaders...".
After a mention to HE Archbishop De Valitch as the "Grand Chancellor and heir to the rich traditions of this noble order..." and to His other religious titles, the Honourable Congressman Alan Wheat, speaking about our Sovereign Order underlined, explained and made clear the distinction between our Order and others, by saying that " Knighthood in the Knights of Malta is not one of the institutions created by a sovereign Pope. " and he continued his speech with a short summary of the historical past of the Order of Saint John of Jerusalem from its foundation to the present times ( 1984 ) and emphasised that " the Order seeks out and invites into its membership men of science who are still sensible, soldiers who are still human, teachers who still teach, thinkers who have not lost their mental acuity. It invites those who reject wealth without work, pleasure without conscience, knowledge without character, commerce without morality, science without humanity, worship without sacrifice and politics without principle. Mr Speaker, these are the essential components covering the ideals and objectives of the Order into which Joseph Anton Walters has been received "
The Honourable Congressman Alan Wheat continued his address to the House of Representatives with a short description of the heroic acts of Mr. Joseph Anton Walters in Jolo Island, at Sulu Archipelago, during World War II ( due to those acts Mr. Joseph Anton Walters was awarded with the Bronze Star of Valor by the United States Army ) and ended his speech by commending His Excellency the Grand Chancellor of the Order Archbishop Lorenz Michael De Valitch for " his humanitarian efforts " and by wishing to him and to our Order "sustained success in their worthwhile endeavour "
We must all fee very honoured by the words of appreciation of the Honourable Congressman Alan Wheat.
Yours in St. John
The Grand Master and Head of the State