SOVEREIGN ORDER OF SAINT JOHN OF JERUSALEM
KNIGHTS OF MALTA
FEDERATION OF AUTONOMOUS PRIORIES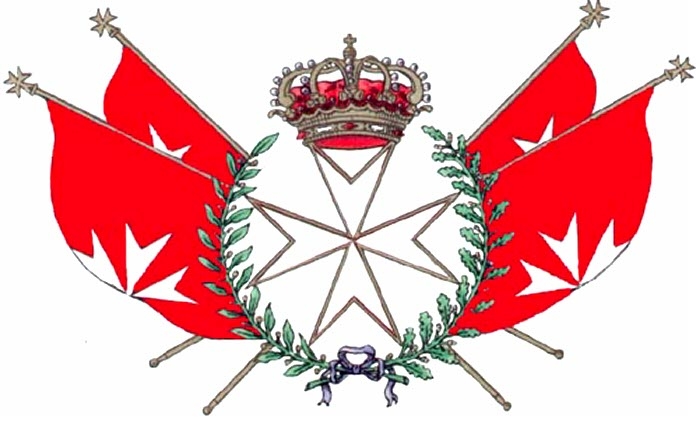 GOVERNMENT OF THE STATE
CABINET OF THE GRAND MASTER AND HEAD OF THE STATE
GREAT HONOUR RECEIVED BY OUR KNIGHT, SIR NUNO COSMELLI
BLESSING OF HIS HOLINESS THE POPE BENEDICT XVI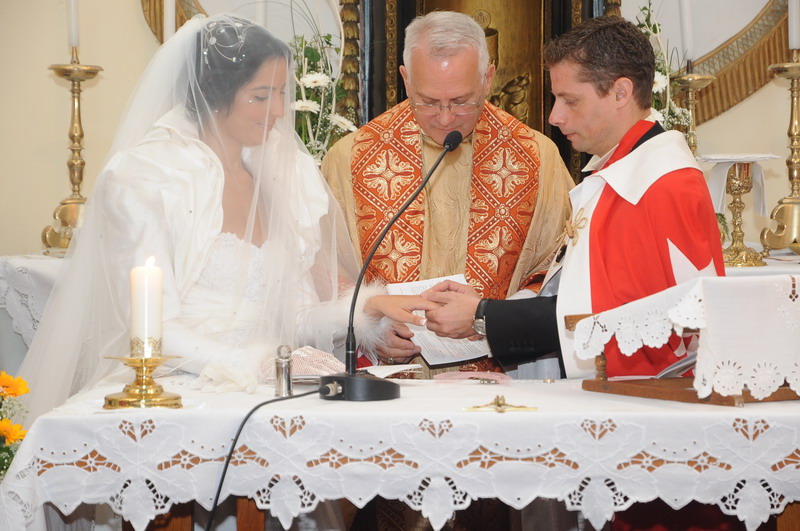 The Magisterial House, as well as all the Knights and Dames of the Federation of Autonomous Priories of the Sovereign Order of St. John of Jerusalem, Knights of Malta, KMFAP, who were present to the last Ceremony that took place on 13th and 14th of May 2011 in Chateau Béla, Slovakia, rejoice with and are very proud of the great - and rare - honour received by one of our Knights, Sir Nuno Goncalo Cosmelli, on the occasion of his wedding to our Dame - Lady Claudia Sofia Ferreira, and of the Baptism of their son Rodrigo Goncalo.
Dr. Sir Nuno Goncalo Cosmelli, son of His Eminent Highness the Grand Master and Head of the State, is a Knight Grand Officer of our Sovereign Order, Deputy Grand Prior of the Grand Priory of Villedieu, First Counsellor of our Embassy to the Republic of Angola and Director of the Femeraid Unit in Angola.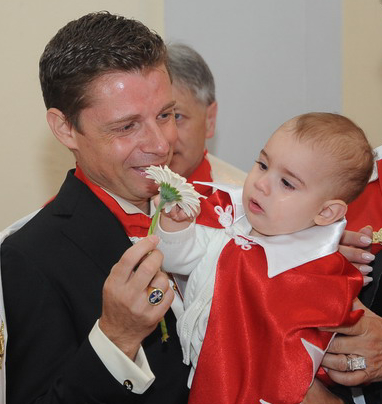 During the Roman Catholic wedding ceremony, presided by the Most Reverend Monsignor Fabio Fabbri, Prelate of Honour of His Holiness the Pope and Grand Prior for Italy of our Sovereign Order, assisted by the Most Reverend Monsignor Ladislaus Joannes Szakal, Chaplain of His Holiness the Pope and member of the Religious Board of our Sovereign Order - representing the Roman Catholic religion - and Reverend Abbot George Herdics. Dr. Sir Nuno Cosmelli and his bride have received not only one beautiful hand-written Papal Blessing given by His Holiness Pope Benedict XVI to their religious wedding, and another Papal Blessing to their son Rodrigo for his Baptism, but they also had the very rare honour of receiving a Telegram with blessings from His Holiness the Pope, signed by His Eminence the Cardinal Tarcisio Bertone, Secretary of State of the Vatican. The Papal Blessing mentioned in the Telegram ( see below ) was extended both to the family of the newly-weds and to all the guests present, most of them our brothers and sisters, Knights and Dames of our Order.
The Magisterial House warmly congratulates the married couple and their son, for these great honours and, to share with all our Knights and Dames, sends by attachment the copy of the above-mentioned documents.