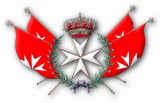 COMMUNIQUÉ FROM THE MINISTRY OF FOREIGN AFFAIRS AND COOPERATION OF THE FEDERATION OF AUTONOMOUS PRIORIES OF THE SOVEREIGN ORDER OF ST. JOHN OF JERUSALEM - KNIGHTS OF MALTA ( KMFAP )
KMFAP IN CHINA
The Ministry of Foreign Affairs and Cooperation of the Government of KMFAP proudly announces that, as a confirmation of a constant international development, the Federation of Autonomous Priories of the Sovereign Order of St. John of Jerusalem, Knights of Malta, opened its newest Asian representation office in Macau, Peoples Republic of China, S.A.R.
The Chinese authorities have given their full approval for the operation, according to the local regulations. The new Mission – in accordance with the international law and in special partnership with a newly registered local corporation - will continue to realize its main objective: to provide Humanitarian assistance and to coordinate the Asian presence of the Federation.
On behalf of this Sovereign Order, a Special Cabinet Representative, H.E. Ambassador Dr. Eugenio Caligiuri, has been assigned to attend the opening ceremony.
The liaison office will be directed ad interim by Chinese-speaking professional diplomats until further decision.