Dear Brothers and Sisters in Saint John,
The Prime Minister's Cabinet of the Sovereign Order of Saint John of Jerusalem, Knights of Malta, Federation of the Autonomous Priories (KMFAP) has the joy of informing to all that on the 14th April 2012, our Knight of Sword and Silence (Sovereign Order of Cyprus), Sir dr. Fritz Wendland celebrated his birthday in Wolfsburg-Fallersleben, Germany. His Grace Sir George Popper, KGC – Executive Grand Chancellor of the Sovereign Order of Cyprus, Prime Minister of KMFAP was also invited to attend this special birthday party.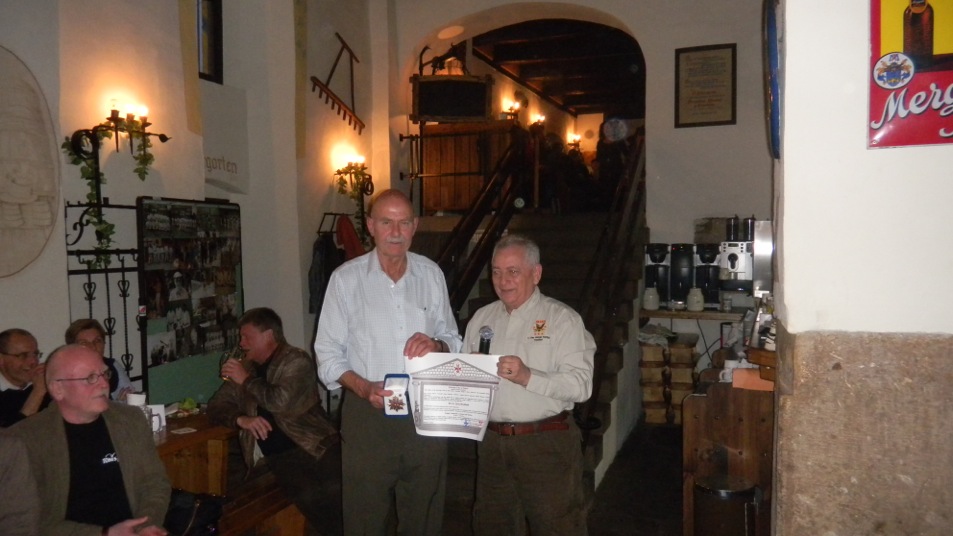 On this occasion Sir George handed over the ancient symbols of the Knights of Cyprus as well as the certificate of Advancement to Sir Fritz – appointing him to Knight Commander of Sword and Silence. Sir dr. Fritz Wendland works actively in Germany in order to achieve modern implementation of the knightly ideas. On behalf of all the Knights and Dames of our Sovereign Order, we present to Sir dr. Fritz Wendland the most sincere congratulations on his birthday and the wishes of much joy and a long and happy life.
Please find below the Greeting letter of the Grand Master of Knights of Malta (KMFAP):
Dear Sir Fritz Wendland,
His Grace Count Sir George Popper kindly informed me that today is your Birthday, therefore I would like, not only on behalf of all of our Knights and Dames, but also in my personal name and in the name of my family, to wish you a very Happy Birthday and many happy returns in the company of those you love in good Health.
As you count your garden by the flowers, not by the leaves that fall, as you count your life by smiles, never by tears, as you count your nights by the stars, not by the shadows, you must count your age by the number of friends, not by the number of years, and in the number of your friends we all, members of our Sovereign Order and State, are part of, so count on us today and in the future.
Yours truly Jose, Prince