SOVEREIGN ORDER OF SAINT JOHN OF JERUSALEM
KNIGHTS OF MALTA
FEDERATION OF AUTONOMOUS PRIORIES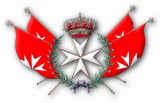 GOVERNMENT OF THE STATE
CABINET OF THE GRAND MASTER AND HEAD OF THE STATE
MESSAGE OF THE GRAND MASTER ON THE OCCASION OF THE YOM KIPPUR ( יוֹם כִּפּוּר‎‎ )
On this tenth day of the month of Tishrei, which is also the holiest day for the all of the believers of the Jewish Faith, a day which completes the cycle of Yamim Nora'im (The days of Awe), but which is also the day of Atonement and of Repentance, in Our personal name and on behalf of the Government of KMFAP and of all the members of the Federation, We wish to all of our Knights and Dames of the Jewish Faith that God may inscribe and seal your fate for the coming year in the Book of Life, with golden and bright letters.
The Forgiveness that each Jewish person seeks in these day for the wrongs done during the past year (bein adam leMakom and bein adam lechavero) will for sure be granted to all of our Jewish Knights and Dames because, as Knights of Malta, they are Pure, and Honest and Tolerant and they love and respect their fellow men.
In your prayers today and tomorrow (Ma'ariv, Shacharit, Musaf, Mincha, Ne'ilah and your prayer dedicated to Yom Kippur avodah), please pray fro the Peace in the World and in the hearts of Men, and for all of those who are being victims of the Crisis, of Misery, of religious Hate and Intolerance and of Starvation.
שָׁלוֹם עֲלֵיכֶם‎ (shālôm ʻalêḵem)
HEH Jose, Prince
Grand Master and Head of the State