FEDERATION OF AUTONOMOUS PRIORIES
OF THE SOVEREIGN ORDER OF SAINT JOHN OF JERUSALEM
KNIGHTS OF MALTA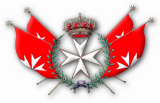 Government of the State
CABINET OF THE GRAND MASTER AND HEAD OF THE STATE
1- The Magisterial House of the Federation of Autonomous Priories of the Sovereign Order of St. John of Jerusalem, Knights of Malta (KMFAP) was informed that, recently, two websites, one in Austria and the other in Slovakia, have published articles strongly attacking this Federation.
2- The said articles containing nothing but dirty lies deliberately conceived to defile and denigrate the good name, the spotless reputation and the credibility of this Federation (KMFAP), surprisingly have been published in websites, which were expected and supposed to be noble and honourable, stating nothing but the Truth.
3- The Magisterial House of the Federation can not, and will not tolerate, either now or in the future, the publication of any type or sort of defamatory articles about our Sovereign Order and State.
4- For the above stated reasons, and as the said articles contain nothing but false statements which constitute a crime of defamation, the Magisterial House of the Federation (KMFAP), has decided to press legal charges against the authors of those articles and against the persons responsible for the edition of the said sites, taking them to court where they will be confronted with all the legal documents and several previous legal sentences of courts from different countries recognising to the Federation (KMFAP) its rights, and where they will also be forced to conclusively prove what they state in their lies.
5- The Magisterial House of the Federation (KMFAP) is very proud not only of the high quality and the commitment of all of its Knights and Dames, but is also very proud of its large and concrete humanitarian and medical assistance given to people in need in many countries, but always done thanks to many efforts and personal sacrifice of its members, never on the account of funds received from any Government, and this is the reason why the Federation (KMFAP) does not want, at any time or under any circumstance, to be confused with any other branch whatsoever (either legitimate or illegitimate) of the old Order of Saint John of Jerusalem.
6- The Magisterial House of the Federation (KMFAP) deeply regrets that the sites – publishing the above-mentioned articles, which were supposed to be noble and honourable sites stating only the Truth – had to go down so low as to use lies to attack us, and will respond with dignity to the indignity of defamation.
7- The trees are measured by their fruits, as the men are measured by their actions, so these lies say more about their authors than about us, their victims, who will proudly continue showing to the World the serious and honest fruits of our honourable work.
Magisterial House, State of New York, 06 December 2012