FEDERATION OF AUTONOMOUS PRIORIES
OF THE SOVEREIGN ORDER OF SAINT JOHN OF JERUSALEM
KNIGHTS OF MALTA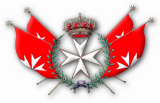 Government of the State
CABINET OF THE GRAND MASTER AND HEAD OF THE STATE
OFFICIAL STATEMENT OF THE MAGISTERIAL HOUSE OF KMFAP ABOUT THE ENTHRONEMENT OF THE NEW POPE, HIS HOLINESS FRANCESCO
The Magisterial House of the Federation of Autonomous Priories of the Sovereign Order of Saint John of Jerusalem, also said of the Knights of Malta ( KMFAP ), on behalf of the Government of the State, of the International Structure of the Sovereign Order and also on behalf of all the Knights and Dames of this Federation, independently of their religious belief or observance, warmly expresses its sincere joy for the election and enthronement of His Holiness the Pope Francesco.
In times of such a deep crisis - not only economical but also social and moral crisis, worldwide - a church with the importance and dimension of the Roman Catholic Church, has to be like a light house: strong to resist to all storms and enlightening the souls of its devotees in the darkest moments of their lives, guiding them to a safe harbour, therefore, the election of a Pope with the outstanding characteristics of strong faith, intelligence, religiosity, simplicity, fine culture, mercy and sobriety of Pope Francesco can only bring Joy and Hope to the hearts of all, Christians and non-Christians and promise a future of love and service for the poor and needy, of respect, honesty, tolerance and intra-religious dialogue.
The Magisterial House invites all of the Knights, Dames, Squires and Damsels of the Federation, of all religions and observances, to pray to God for the Pope Francesco, for his long life, good health and for the success of His papacy.