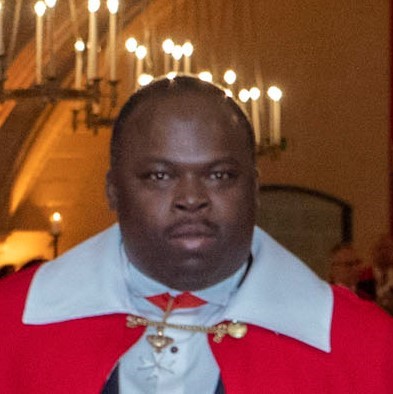 The Priory of Benin of the Sovereign Order of Saint John of Jerusalem, Knights of Malta, Federation of the Autonomous Priories (KMFAP) handed over - at an official ceremony - 25 respiratory assistance devices that were offered by the Malta Cross International Foundation - Benin to the Embassy of Benin in Washington (USA) in order to help Benin Republic for a better response to the COVID-19 pandemic.
The ceremony took place on the 15th April 2020 in the presence of the Chargé d'Affaires, His Excellency Mr. Gafari Nadey Dango and the staff of the Embassy.

Furthermore, the Priory of Benin informs everyone that other humanitarian actions are also under way in Benin on behalf of FEMERAID International - Benin Unit. Publications about these activities will follow soon.

Sir Florentin Tchaou

Prior of Benin

AND HEAD OF THE STATE

Dear Sir Florentin,

You can not imagine how moved and touched we are, knowing that this humanitarian action taken by the Knights of our Priory of Benin can save many lives to the population of Benin. We also want to thank Prof. Henri Nsika for his help.

We are very happy to see that our Knights in different continents, from Europe to Africa, Asia and America are giving a strong and very positive, in many cases like yours, even decisive, to save lives. Indeed, from the Grand Priory of Florida USA to the Femeraid Ambulance Service in Malta, from KMFAP Mozambique to Femeraid International Air Rescue, from Benin to Hungary, from United Arab Emirates to Asia, these only to mention a few of our Institutions, have been active in joining the global fight against the COVID-19, and in many cases risking their own lives to save the lives of others.

In dramatic moments like this we know for sure that the work of our Team and of our Government to promote our Sovereign Order and State in the World has not been in vain.

We are very proud of our Knights of St. John and the Benin Priory is an example to all.

Yours in St. John
H.M.E.H. Jose, Prince

Grand Master and Head of the State