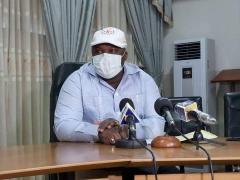 FEMERAID International – Benin Unit together with the Priory of Benin of the Sovereign Order of Saint John of Jerusalem, Knights of Malta, Federation of the Autonomous Priories (KMFAP) proved their generosity again and provided significant support to the Republic of Benin.
On the 23rd April 2020, as part of the fight against the COVID-19 pandemic, the new FEMERAID International – Benin Unit donated the following medical consumables to the Benin Minister of Health:
- 4500 pairs of gloves,
- 3000 three-fold masks,
- 450 FFP NP303 masks,
- 250 3M FFP masks and
- 20 protective suits for medical staff.
The official ceremony took place in the conference room of the Ministry of Health in Cotonou. The donations were received by the Secretary General of the Ministry, Dr. Ali Imorou BACHABI – representing the Minister of Health – who, on behalf of the Government, thanked Sir Florentin Tchaou, Prior of Benin and the entire team of FEMERAID Intl. Benin Unit for the relevant choice of these types of sensitive and indispensable materials in the fight against COVID-19.
27th April 2020