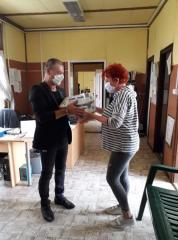 During the state of danger caused by the COVID-19 pandemic, Sir Dr. Péter Fábián, State Secretary of the Sovereign Order of Saint John of Jerusalem, Knights of Malta, Federation of the Autonomous Priories (KMFAP), supported numerous Hungarian institutions and settlements with generous donations of health protection equipment and thus actively helping to fight against the coronavirus.
This time, in cooperation with Sir Attila Ferenc Szöllősi, Prior of Centre Hungary of KMFAP, 2000 surgical face masks were donated to the following social institutions of the city of Pécel in Hungary: Family Support Service, General Practitioners, Paediatricians, Heart of Jesus Home for the Elderly, Endre Ady Home for the Elderly.
In addition, 500 pcs. FFP2 protective face masks were donated to the city's Véd ESE Home for the Elderly, the Nurse Service, the Paediatricians and the Pécel Police Station.

We express our gratitude and appreciation for the care of our fellow knights in helping those, who are most at risk during the epidemic.

20th May 2020