Sir Dr. Nuno Gonçalo Cosmelli, Air Physician and Director of the Malta based Air Rescue Service of FEMERAID International – the health service institution of the Sovereign Order of Saint John of Jerusalem, Knights of Malta, Federation of the Autonomous Priories (KMFAP), was considered by the AMPA's Board as one of the top flight physicians of the world on advancing air critical care transport of COVID-19 patients, and was awarded with the Golden Medal by this institution.

AMPA (Air Medical Physician Association) is an international organization, based in the United States of America, committed to patient-focused, quality critical care transport medicine by promoting excellence in medical direction, research, education, safety, leadership, and collaboration.

Sir Dr. Nuno Cosmelli was also awarded by AMPA with a Certificate of Excellence in Patient care, Teaching and Research in the venue of air medicine. Sir Nuno is post-graduated in Aeromedical Medicine and Flight Physiology by the Aeronautical Medicine Centre of the Portuguese Air Force and by the Critical Care Academy of South Africa, furthermore he is an instructor, accredited by the American Trauma Society and by the American Heart Association, of several advanced medical emergency courses, besides being also the General Director of FEMERAID International Africa.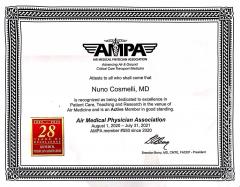 Dear Sir Nuno,

in the name of all the Knights and Dames of KMFAP, please accept our heartfelt congratulations for your significant and dedicated work and our most sincere appreciation for the prestigious awards.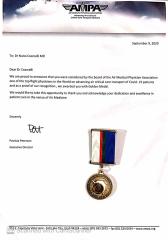 6th October 2020