The Sovereign Order of Saint John of Jerusalem, Knights of Malta, Federation of the Autonomous Priories (KMFAP) has the pleasure to announce that on the 23rd November 2021, the Knights of the Grand Priory of Benin proceeded to deliver important medico-technical equipment to the local authorities of three communes (Comè, Grand-Popo and Athiémè) of Mono Department of Benin.
The donation consisted of 80 hospital beds, 80 mattresses, 50 wheelchairs, 20 couches for consultation and delivery, 20 walkers and various other devices.

With this humanitarian action, our Order and Sovereign State has just shown its commitment to support Benin in equipping health facilities. The donation ceremony took place at the Comè Town Hall in the presence of representatives from the Ministry of Foreign Affairs and Cooperation, the Ministry of Health, the Prefect of Mono Department and the mayors of the beneficiary communities.
This donation came in response to an urgent need expressed by the mayors of the above-mentioned communes and will alleviate the suffering of the populations over the very next days.

The official handover of the donation was materialized by the signing of the Donation Certificate between the KMFAP Grand Prior of Benin, Sir Florentin Tchaou, and the representative of the beneficiaries, the Mayor of Comè city.

Both the Magisterial House of KMFAP and the Government of our State congratulate all the Knights of the Grand Priory of Benin, in the person of their Grand Prior, and also our Diplomats accredited to the Republic of Benin for their outstanding and dedicated work.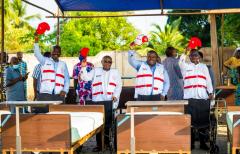 3rd January 2022